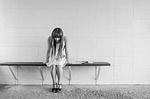 Succeeding with a Service Dog
When I began experiencing bipolar disorder and anxiety, I was devastated. What did this mean for me? How was I going to handle it? How would I take care of myself? So many questions swirled around in my mind. As I moved on treating my disorders, I found that there were many things that were difficult to handle even with medication. Remembering to take my medication was difficult, functioning on some of my medication was hard, and when mood changes or anxiety hit without warning, I often was left floundering.
But then I realized I had Bronco, my German Shepherd. He instinctively seemed to know when I needed comfort. He could sense my emotions and turmoil and would come, on his own, to try and help me. His presence brought so much relief to my life at home, that I wished I could bring him with me everywhere I went to help me with my illness.
I started reading about service dogs, trying to understand all the ins and outs of having a dog. I realized that getting a service dog was a lot harder than just buying a vest online and putting it on my dog. I spent a full year reading and researching, trying to understand the laws and what I needed to do to legally have a service dog for my disabilities and learning how a service dog could help me.
Finally, after several years of reading and training, I was ready with my service dog, Bronco.
Unfortunately, shortly after all that work, I realized I had to "wash" the dog I loved so much and had worked with for so long. I had made a critical mistake in the dog I had chosen. I hadn't learned enough about choosing the right dog and I let my heart lead me when I needed to use my head. He checked off most of the boxes, but his instability around strangers in public was unpredictable and dangerous. So I lost all that work I put in. I had to start over.
This led me to having to do more research. I read study after study on temperament testing, on how Guide Dogs for the Blind were chosen, what tests predicted success in a service dog… hours and hours of study so that I wouldn't fail again at picking the right dog.
Since that time, I've been able to help many others (and myself!) find their loyal service dog companion, and I'm proud to say there have been no failures. The service dogs I've trained have been god-sends to their owners, providing stability and help where doctors and medicines have failed.
Understanding how to navigate the laws, but also understanding what predicts success in a service dog and also how to handle training when disabilities make it hard, have allowed my clients (and me) to move forward with confidence and be successful.
Creating Succeeding with a Service Dog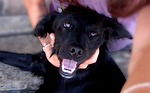 So I took all this stuff I have learned, all the things you need to know in order to get started with a service dog and be successful and I've created a three-hour video course that exhaustively covers everything you need to know.
This course is called Succeeding With A Service Dog: Avoiding Legal Issues, Finding the Right Dog and Training it Yourself.
Three hours covers every detail you need to know about getting ready for, choosing and preparing to train your service dog.
The course is broken into three parts.
In the first part, I cover how to know if you legally qualify for a service dog. I talk about how to talk to a doctor to get a note for a service dog and what to do when a doctor says no. I discuss landlord issues and what their laws are.
The second part, we discuss in depth how to choose a service dog candidate. This is deep stuff that covers what you should look for in a dog on the surface, but then also discusses what tests you can do to best predict that a dog or puppy will be successful. There are printable worksheets that cover these items, so that you can take them with you when you test a dog.
The third part discusses training. How to set yourself up to train successfully and make a plan in advance. How to plan for hard days that make you want to stop training. What kind of training is good training. And also, ideas for specific tasks you can train your dog to do for your disability.
What's In the Course
Here's a sneak peak of the things we cover in this three-hour video course:
Knowing Your Rights
Keeping Out Of Trouble: Do You Legally Qualify for a Service Dog?
Asking With Confidence: Getting a Doctor to Write A Note for a Service Dog
Dealing With Housing: Getting Your Landlord to Follow the Laws
Finding the Right Dog
Where to Look: Saving Time By Knowing What Type of Dog You're Looking For
Picking and Choosing: Proven Ways to Test if A Dog Will Succeed in Service Work
Owner Training a Service Dog
Successful Training: Forming Routines and Combatting Bad Days
Step By Step: Training a Service Dog the Right Way
Task Training: What Tasks to Teach Your Service Dog
Joining the Course
The course is a one time $47 for lifetime access.
Don't like the course? Feel like it wasn't right for you? We give full refunds if you're not satisfied for any reason. Buy it, check out the material, if you don't like it, just send an email with your information to contact@comehereboy.com and we'll refund within 7 business days.
Why not just find all this information on a blog? Well, we've ordered this properly and really dive into it depth all the things you need to know. No need to search around for days or weeks trying to find the scattered information this course covers. It's all here, all ready in a neat little package for you. I've done all the research and put it in an easy to access place for you.
Why not just talk to a trainer? Well, service dog trainers charge around $90 per hour for their time. If you were to talk to a trainer for three hours to get all this info, you're looking at $270. And you don't get to play back the conversation whenever you need to remind yourself of something.
Ready to sign up? This course is available for sign up for only one week. After that, it will be closed.
We use Stripe to process payments. It's 100% secure. You will be asked to create an account with us so that you can log in to view the course.